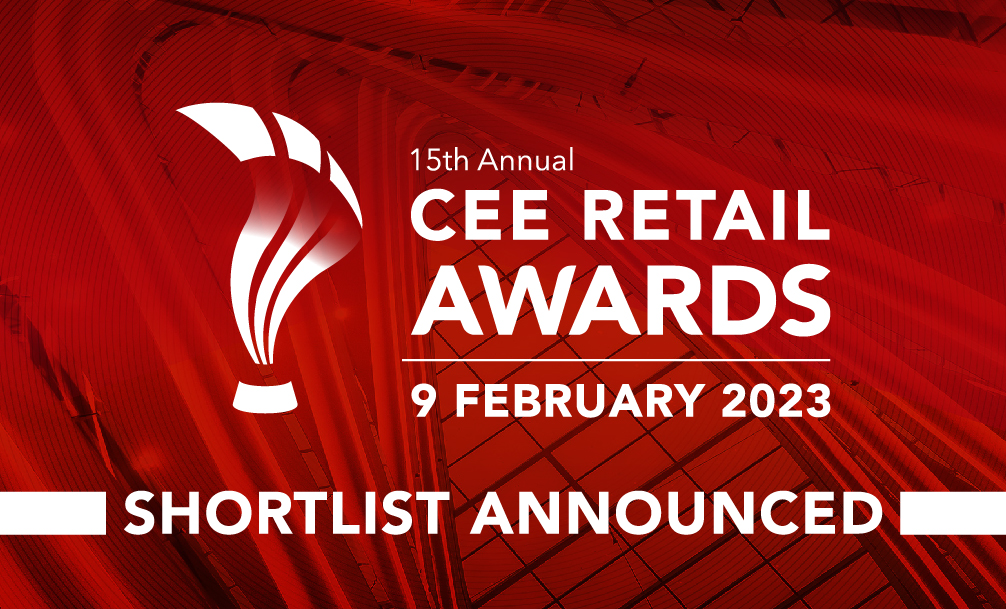 EuropaProperty is pleased to announce the shortlist for the upcoming 15th annual EuropaProperty CEE Retail Awards. Heralded as the region's premier commercial real estate event, this eagerly anticipated occasion will take place on February 9, 2023, in Warsaw at the InterContinental Hotel.
The flagship retail event for the region
The CEE Retail Awards is dedicated to a retail networking environment and delivers a professional platform for deal-making, relationship building and one-on-one or group discussions on the evolving retail investment and development opportunities that are presenting themselves to the market.
The event opens with the CEE Retail & CEO Networking Forum, a series of discussion panels covering all hot topics and relevant issues for the dynamically evolving retail sector. The forum provides an occasion to hear from some of the sector's leading thought leaders as well as opportunities to discuss and explore the industry's most important topics.
The event consists of forums, networking, a retailer platform, an awards gala and an online marketplace, as well as providing an excellent opportunity to make new contacts and renew existing business relationships on a professional networking platform.
E-retail & innovation
Meet the most active retailer, innovators, e-retailers, investors, developers, bankers, asset managers and CRE professionals active or looking to enter the region. With a multitude of directors – local, regional and international participants – this event is not to be missed.
At the awards gala, retailers, real estate companies, projects and individuals will be presented with awards of acknowledgement by the industry for their contribution to the development of the retail commercial real estate market in the region.
Key retailers
EuropaProperty is expecting more than 400 participants including many retailers doing business or planning to do business in the region. This event is subject to considerable media coverage with local and international media present. This ensures participants, companies, and award winners, an extra opportunity to publicize themselves and the retail sector throughout Central and Eastern Europe.
Nominations
An independent Jury of leading real estate professionals carried out the process of deciding between the nominations for the award categories. The members of the Jury are all experienced real estate professionals and are from every sector of the commercial real estate and retail industries.
The semi-finalists will have their entries scrutinized by the Jury, who vote to decide on the winners the night before the gala at a jury dinner held at the InterContinental. The Event Auditor, EY, audits the voting process.
Countries eligible to enter the awards include Poland, the Czech Republic, Hungary, Slovakia, Ukraine, Austria, Lithuania, Latvia and Estonia.
Full list of semi-finalists for the 15th annual CEE Retail Awards
Company of the Year
Retail Tech Provider
ART Software Group
Chainels
Hyperin
Motesque
Nexite
PlanRadar
R8 Technologies
Shopingy 
Professional Service Provider
Arcadis
Closer Music
Coverpoint Foodservice Consulting
IMS
JW+A
Nhood Ukraine
Schwitzke Górski
Sierra Balmain
Westbridge Advisory International
Architectural Firm
APA Via
PRC Architects
Schwitzke Górski
Construction Firm
CFE
Harden Construction
Prime Construction
Tax & Financial Adviser
ALTO Tax
ASB Group
TPA Poland/Baker Tilly TPA
Law Firm
CDZ Chajec i Wspólnicy
Decisive Szmigiel, Papros, Gregorczyk
Dentons
Konieczny Wierzbicki
Penteris
Rymarz Zdort
Sołtysiński, Kawecki & Szlęzak
Viroux & Partners
Project Management Firm
APP-Projekt
Cushman & Wakefield
Nhood
Property Management Firm
Cushman & Wakefield
EPP
Master Management Group
Nhood
Sierra Balmain
WeCARE/Liebrecht & wooD
Logistics Services
DHL Supply Chain
Frigo Logistics
Rohlig Suus
Shopping Center Manager
Marek Ciszewski – Serenada Centre – Mayland Real Estate
Kamila Kiersikowska – Galeria Młociny – EPP
Aleksandra Mańka – Galeria Bronowice – Nhood
Emilia Załuska – Klif – Cushman & Wakefield
Asset Management Firm
Adventum Group
CBRE Investment Management
EPP
Mint Investments
Nepi Rockcastle
Sierra Balmain
W. P. Carey
Agency
CBRE
Colliers
CREAM Management
Cushman & Wakefield
Bank
Aareal
Erste Group
Helaba
pbb Deutsche Pfandbriefbank
Pekao Bank
Investor
Adventum Group
CBRE Investment Management
EPP
Focus Estate Fund
LCP Properties
Mint Investments
Nepi Rockcastle
Patron Capital Advisers
Supernova Invest
W. P. Carey
Warehouse Developer
CTP
HelloParks
Panattoni
Retail Park Developer
Acteeum Group
KLM Real Estate
Trei Real Estate
Developer
Acteeum Group
Atrium European Real Estate
Echo Investment
Futureal Development
KLM Real Estate
Liebrecht & wooD
Nhood
Trei Real Estate
Project of the Year        
Concept Project             
C&A Store in Bratislava
GOMEZ Fashion Store in Warsaw
Lantre Stationary Showroom by Schwitzke Górski
Refurbishment/Extension Project
Atrium Pardubice – Atrium European Real Estate – Czech Republic
Auchan Piaseczno – Nhood – Poland
Gemini Park Tychy – Gemini – Poland
Renoma (phase 1) – Globalworth – Poland
Supernova Ljubljana Rudnik – Supernova – Slovenia
Best Performing Fashion Outlet Project
Designer Outlet Warszawa – ROS Retail Outlet Shopping – Poland
Fashion House Pallady – Fashion House Group – Romania
Via Jurmala Outlet Village – Outletico – Latvia
Retail Park
Cuprum Park – Mgc Inwest – Poland
Klokan Retail Park – KLM Real Estate – Slovakia
N-Park Gniezno – Napollo – Poland
Vendo Park Skarżysko-Kamienna – Trei Real Estate – Poland
Retail Project
Atut Galicyjska – KG Group – Poland
Karuzela Kolobrzeg – Mitiska REIM/Karuzela Holding – Poland
Vendo Park Otwock – Trei Real Estate – Poland
Future Project
Drucianka Campus – Liebrecht and Wood – Poland
EMONIKA – OTP Group – Slovenia
Fashion Outlet Slovenia – HG Invest – Slovenia
Fuzja – Echo Investment – Poland
Ostróda Power Center – Acteeum Group – Poland
Wilanów Park – Nhood – Poland
Ultimate Destination 
Blue City – Blue City – Poland
Serenada Centre – Mayland Real Estate – Poland
Etele Plaza – Futureal – Hungary
Galeria Bronowice – Nhood – Poland
Galeria Młociny – EPP – Poland
Galeria Północna – GTC – Poland
Stary Browar – Deutsche Asset Management – Poland
Retailer of the Year 
F&B Retailer
Fruitisimo
La Donuteria
MAX Premium Burgers
Specialty Retailer (small)
NEONET
Schowek24.pl
Vision Express
YES
Specialty Retailer (large) 
Kaufland
MediaMarkt
Tedi
Cosmetics Retailer
Hebe
Rituals
Rossmann
Fashion Retailer (under 600 sqm)
4F
Guess
Kazar
Medicine. Everyday Therapy
Mohito
Fashion Retailer (over 600 sqm)
Cropp
House
Martes Sport
New Yorker
Sinsay
Fashion Retailer (over 1,000 sqm)
C&A
CCC
Gomez
H&M
New Yorker
Primark
Reserved
Online Retailer
Answear.com
eobuwie.pl
Gomez
Kazar Group
LPP (Cropp, House, Mohito, Reserved, Sinsay)
MediaMarkt
Medicine. Everyday Therapy
MODIVO
Rossmann
YES
Overall Awards
Retailer
Professional
Lifetime Achievement