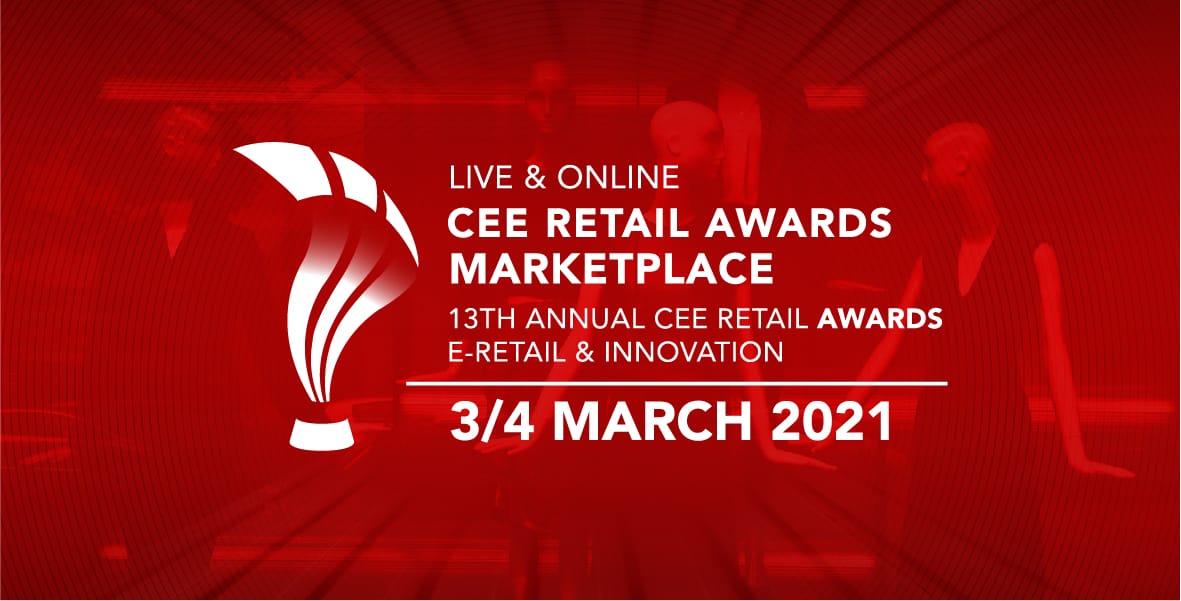 EuropaProperty is pleased to announce the short-list for the upcoming 13th annual EuropaProperty CEE Retail Awards and Marketplace. Heralded as the region's premier commercial real estate retail event this eagerly anticipated occasion will take place LIVE & ONLINE on March 3/4, 2021.
The CEE Retail Awards & Marketplace will be the first virtual awards show and experience celebrating the retail industry. The event will be broadcast over two-days via the latest online technology and digital know-how, culminating in a live-streamed virtual award show on March 4.
Bringing people together has never been more important and the CEE Retail Awards & Marketplace will create a unique opportunity to be entertained and share the experience of a highly coveted event, whilst learning about the developments and trends which will help shape the 'New Normal' in the retail sector.
The awards will continue to celebrate the success and creativity of the industry's most impressive developments, leading retailers, leisure operators & affiliated business partners, through concepts, initiatives and design excellence.
At the awards gala, retailers, real estate companies, projects and individuals will be presented with awards of acknowledgement by the industry for their contribution to the development of the retail commercial real estate market in the region for 2020.
An independent jury carried out the process of deciding on the shortlist for the award categories. The members of the jury are all experienced professionals and are from every sector of the commercial real estate and retail industries in the region. The voting process is monitored by the world-renowned audit company EY.
The shortlisted semi-finalists will have their entries scrutinized and the jury then votes to decide the winners on the night before the gala at a jury dinner held LIVE & Online.
The CEE Retail Awards are widely-recognized by the retail and commercial real estate industry as the market benchmark for retail success in Central and Eastern Europe.
Shortlisted nominees
Company of the Year
Professional Service Provider
APP-Projekt
APA Via and Partners
Broadway Malyan
CEETRUS Ukraine
Coverpoint Foodservice Consulting
MK Illumination
Multidekor
Regio Plan Consulting
relevanC
theleisureway
Urban Experts
Workcloud24
Tax & Financial Adviser
Advicero Nexia
Allen & Overy
Penteris
SSW Pragmatic Solutions
TPA Poland
Law Firm
Allen & Overy
Arzinger Law Firm
Dentons
Graś i Wspólnicy
Penteris
Rymarz Zdort
SSW Pragmatic Solutions
Construction Company
CFE Polska
Eiffage
Karmar
Property Management Company
Apsys
A&A Holding
CBRE
CEETRUS Ukraine
Cushman & Wakefield
Master Management Group
White Star Real Estate
Shopping Center Manager
(nominations are still being accepted)
Marek Ciszewski – Mayland
Olena Bukalo – Blockbuster Mall
Costin Blideanu – AFI Europe
Aleksandra Mańka – Immochan
Yoram Reshef – Blue City
Retail Agency
CBRE
Colliers
Cresa
Cushman & Wakefield
JLL
NAI Ukraine
Banking & Finance
Aareal Bank
Helaba
mBank
pbb Deutsche Pfandbriefbank
UniCredit Bank
Investor
Adventum International
Atrium European Real Estate
First Property Group
Generali Real Estate
Griffin Real Estate
IMMOFINANZ
REInvest Asset Management
Retail Park Developer
CEETRUS Ukraine
Dekada
IMMOFINANZ
Trei Real Estate
Developer
AFI Europe
Apsys
Dekada
Echo Investment
Equilis Europe and Acteeum Group
FASHION HOUSE
IMMOFINANZ
J&T Real Estate
Mandarin Plaza Group
Master Management Group
Property Market
Trei Real Estate
White Star Real Estate
Project of the Year
Mixed-use
AFI Brasov – AFI Europe – Romania
BudaPart – Property Market – Hungary
Eurovea City – J&T Real Estate – Slovakia
Browary Warszawskie – Echo Investment – Poland
Retail Park
POINT 44 – Real Management – Poland
Kasztelania Retail Park – STEC – Poland
Retail Park Petrivka – CEETRUS – Ukraine
Vendo Park Częstochowa – Trei Real Estate – Poland
Extension/Refurbishment
Elektrownia Powiśle – White Star Real Estate – Poland
Manufaktura Lodz – Apsys – Poland
Origo shopping center – Linstow Center Management – Latvia
Future Project
Galeria Andrychów – EQUILIS + Acteeum – Poland
Frontier Park Wrocław – Frontier Estates – Poland
Tbilisi Outlet Village – Georgian Outlets & Resort Group – Georgia
Retail Project (small)
Dekada Nysa – Dekada – Poland
Galeria Chełm – EQUILIS + Acteeum – Poland
STOP SHOP Siedlce – IMMOFINANZ – Poland
Retail Project (medium)
FASHION HOUSE Outlet Centre, St Petersburg – FASHION HOUSE – Russia
Galeria Wiślanka – Wiślanka SA – Poland
Novum Prešov – Gemo – Slovakia
Retail Project (large)
AFI Brasov – AFI Europe – Romania
ALEJA shopping center – SES Spar – Slovenia
Galerija Belgrade – Eagle Hills – Serbia
Ultimate Destination
AFI Cotroceni – AFI Europe – Romania
Blockbuster Mall – Mandarin Plaza Group – Ukraine
Lavina Mall – Mandarin Plaza Group – Ukraine
Retailer of the Year
(nominations are still being accepted)
F&B Retailer
Burger King
Fruitisimo
KFC
Meating Point
Papa John's
Pizza Hut
Coffeeshop Retailer
Etno Café
Green Caffe Nero
Starbucks
Consumer Electronics Retailer
MOBIA
MediaMarkt
NEONET
Speciality Retailer
Empik
Hebe
Helios
Martes Sport
Newbie
Pepco
Papiernik by Empik
Rossmann
YES
Fashion Retailer
CCC
Cropp
House
KappAhl
Medicine Everyday Therapy
Mohito
Reserved
SinSay
Online Retailer
eobuwie.pl
Empik
Hebe
LPP
MediaMarkt
Papiernik by Empik
Rossmann
Zalando
Retail Innovation
Galerija Belgrade
CCC
MediaMarkt
Modivo by eobuwie.pl
Empik
Hebe
Rossmann
Overall Awards
(nominations are still being accepted)
Retailer
Professional
Karolis Adlis – W. P. Carey & Co
Doron Klein – AFI Europe
Bruno Lambrecht – CFE Polska
Andras Marton – Adventum
Raimund Paetzmann – Zalando
Emma Toma – AFI Europe
Jacek Wesołowski – Trei Real Estate
Monika Woźniak-Zawioła – EQUILIS
WELCOME TO THE BRAVE NEW WORLD OF ONLINE EVENTS
The CEE Retail Awards & Marketplace is dedicated to today's new look networking environment and delivers a professional and safe platform for deal-making, relationship building and one-on-one or group discussions on the evolving retail investment and development opportunities that are presenting themselves to the market.
The two-day event opens with the CEE Retail & CEO Networking Forum, a series of discussion panels covering all hot topics and relevant issues for today's dynamically evolving retail sector. The Retail Forum provides an opportunity to hear from some of the retail market's leading thought leaders, as well as opportunities to discuss and explore the retail industries most important topics.
STAY CONNECTED WITH MARKETPLACE
As a backdrop to the whole event is the Marketplace and Retailer Networking Platform, an online market place where developers and retailers can meet to discuss, formulate and make deals.
The Marketplace is active and available to attendees and sponsors to utilise immediately.
Meet the most active retailer, innovators, e-retailers, investors, developers, bankers, asset managers and CRE professionals active or looking to enter the region. With over 600 directors – local, regional and international participants.
The most important change to this event is that we are delivering retail contacts to you who are currently searching for opportunities to expand in the CEE region, and to your shopping destination in particular.
As a retail destination owner, management firm, or developer this is an excellent opportunity to meet new retailers to discuss leasing opportunities now and in the future.
Connecting with other sector professionals via digital tech is fast-becoming normal. Here at Europaproperty.com, we have developed an immersive platform for our events as we enter the 'New Normal'.
The CEE Retail Awards and Marketplace will be the region's first fully immersive virtual awards celebrating retail and innovation across the region. The 13th edition will be a digital show streamed live.
This is an unmissable opportunity to showcase your company, project services to the retail real estate industry, ensuring unrivalled coverage. If you are interested in aligning your company with the prestigious Awards as our Premier Partner or Award Sponsor, check out our sponsorship opportunities by visiting www.retailawards.eu.